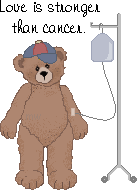 Before I Go...

When my life has reached its very end,
And I take that final breath;
I want to know I've left behind,
Some "good" before my death.

I hope that in my final hour,
In all honesty I can say:
That somewhere in my lifetime,
I have brightened someone's day.

That maybe I have brought a smile
To someone else's face,
And made one moment a little sweeter
While they dwelled here in this place.

Lord, please be my reminder
And whisper softly in my ear ...
To be a "giver," not a "taker,"
In the years I have left here.

Give to me the strength I need,
Open up my mind and my soul
That I might show sincere compassion,
And love to others before I go.

For if not a heart be touched by me,
And not a smile was left behind ...
Then the life that I am blessed with,
Will have been a waste of time.

With all my heart, I truly hope
To leave something here on earth ...
That touched another, made them smile
And gave to my life ... worth.
~ Author Unknown

The Letter "C"

I'm lying here in bed tonight,
Wondering if everything will be all right.
See, I have this stuff in my breast,
And they keep doing test after test.
Dr's are trying to get me ready for the big day,
Will they get it all? Will they make it go away?
All of these questions linger in my mind,
Why in me, did this they have to find?
I don't understand, I keep asking why??
Will I live? Will I die???
I worry all the time, I can't sleep, I can't eat.
I wonder if this thing I can beat??
I seem to shake and tremble all the time,
But to all that see me, I look fine.
I'm not fine, I'm scared and I want to cry.
But I don't have time, I have to fight, I have to try,
To take some control of this stuff inside me,
And this stuff begins with the Letter 'C'.

Got a poem or quote or story that has touched your heart? Use the handy form below to send it to me and I will post it here.

Through Tears of Love Comment Form
Roses For My Mother

If Roses grow in Heaven,
Lord please pick a bunch for me,
Place them in my Mother's arms
and tell her they're from me.

Tell her I love her and miss her,
and when she turns to smile,
place a kiss upon her cheek and
hold her for awhile.

Because remembering her is easy,
I do it every day,
but there's an ache within my heart
that will never go away.

Please check this box often and hold these people up in your prayers. Also, please do send your own prayer requests to be posted here so that we can all pray for each other.

PRAYER REQUESTS :

Tommie Lee Foster - Breast Cancer

Tootsie Corbett - Stage Four Breast Cancer....Aunt Tootsie passed away in October, I will update this tonight.

Anthony Nash - Nasopharangeal Carcinoma,mid stage, diagnosed yesterday

 
Take a flower to a Caregiver Today!

All too often, when a family has been faced with cancer or other terminal illness, there is one person who takes on the full-time job of caring for this patient. This person has literally put his or her life on hold for the moment, in order to make sure that the patient has the best quality of life possible for the time that they have left. And sadly, because of all the fear, the stress, and the 'upsets', this person is frequently overlooked by all. If you know someone who is caring for a terminally ill person, then take them a flower or a bouquet of flowers and let them know that someone cares for the caregiver, too.
A friend of our family sent me this scripture when he found out that I had cancer.

If you have any other scriptures, or quotes, please do send them to me, and I will display them here.

ECCLESIASTES 3:11 "HE MAKES ALL THINGS BEAUTIFUL IN HIS TIME."

I would like to take this time to express sincere thanks to "Mary's Little Lamb" for the teddy bear graphics. That is a wonderful site and there is a link to it at the bottom of the page. Please do go and visit the site. You will be glad you did!